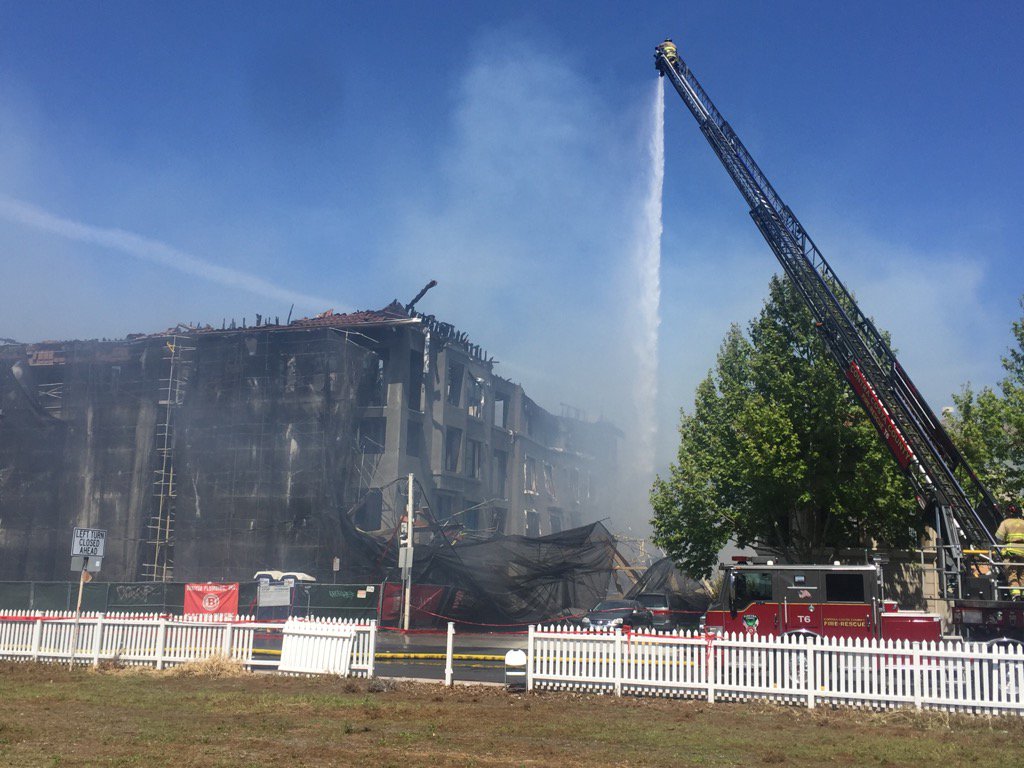 A massive apartment construction fire early Tuesday morning destroyed a two-block area near Todos Santos Plaza in Concord and ATF is investigating into whether or not it was arson.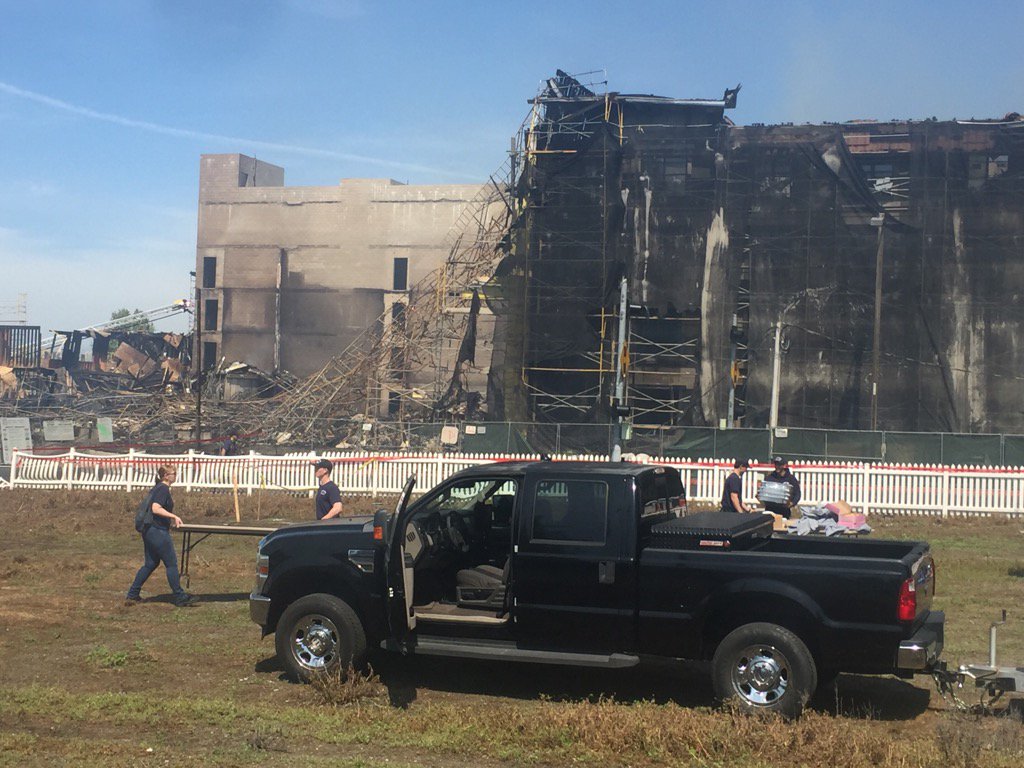 A massive apartment construction fire early Tuesday morning destroyed a two-block area near Todos Santos Plaza in Concord and ATF is joining the investigation into whether or not arson could be involved.
Dispatchers were inundated with calls at 1 a.m., with one person describing an explosion followed by a massive fire erupting at a construction site near downtown Concord. Assistant Chief Terrence Carey, the incident commander, said fire crews arrived to find a large fire at a five-story apartment complex under construction with wood framing engulfed in flames.

At least 70 fire fighters converged at Galindo and Concord boulevards to fight the blaze, while 250 residents of the apartment complex across the street were told to evacuate. " I looked out the window and all I could see was a wall of flame and fire. Unfortunately, I couldn't get the cat and the apartment started to smell like smoke and we had to get out. The dog was next to me and I grabbed her," Emily Scheffler said.
A massive fire destroyed a huge apartment complex under construction in Concord. Two people are injured and hundreds of people living next door have been evacuated.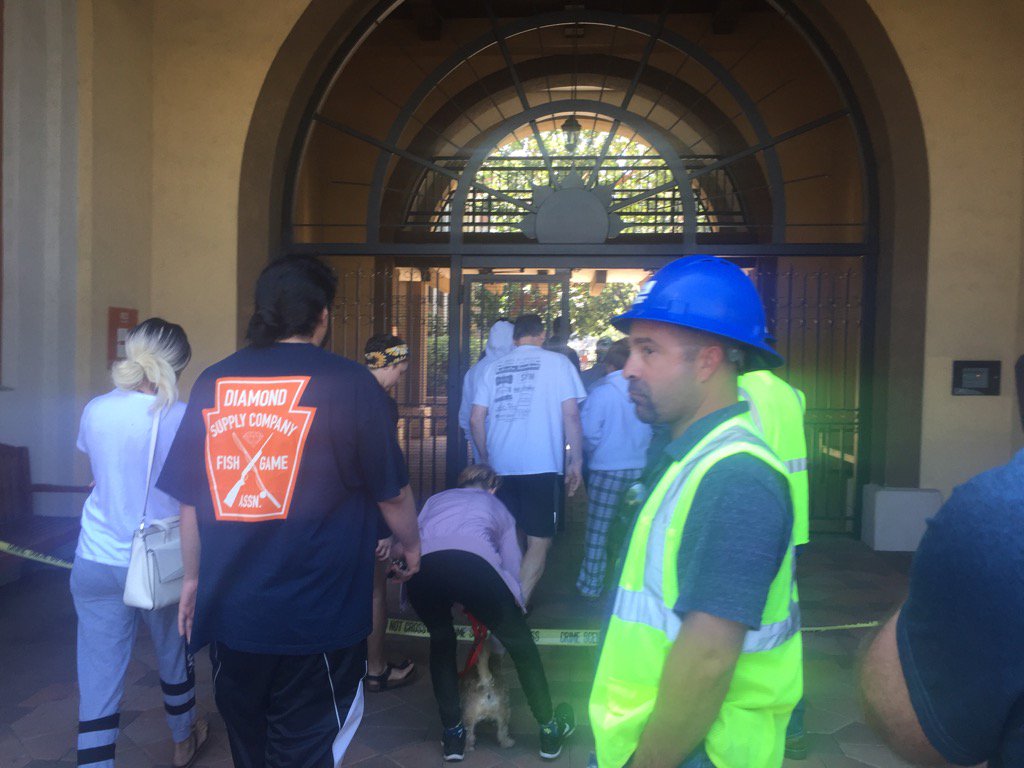 Three people were taken to hospitals for smoke inhalation, but no other injuries were reported.
ATF investigators are joining local fire officials to pinpoint the cause just as they did in three other construction site fires in the East Bay over the last two years. Two blazes at an Emeryville construction site and another on Valdez st in Oakland last summer were deemed suspicious. "It's way too early to know if this is accidental or intentional. Also, it's too early to know if this is connected to other fires across the Bay Area," Jill Snyder with ATF said.
A ferocious early morning fire devoured an Oakland apartment complex that was under construction and forced hundreds to evacuate while crews battled the four-alarm blaze.
Ash and debris rained down on nearby streets as the health department issued a warning. "Residents should avoid washing or sweeping ash and debris into storm drains as this could contribute to pollution accumulating in nearby creeks," according to Maria Duazo with Contra Costa Health Services.
Evacuated residents had 10 minutes to retrieve medicine, clothes and pets from their apartments late Tuesday afternoon. One man said, "I am alive, everyone's alive, at least we made it out OK."
How to prevent arson in construction areas?
Deter unauthorized entry to the site and prevent unauthorized entry to the buildings
Reduce the opportunity for an offender to start a fire
Reduce the scope for potential fire damage
Reduce the subsequent losses and disruption resulting from a fire
Fire risk assessment
Free Translation: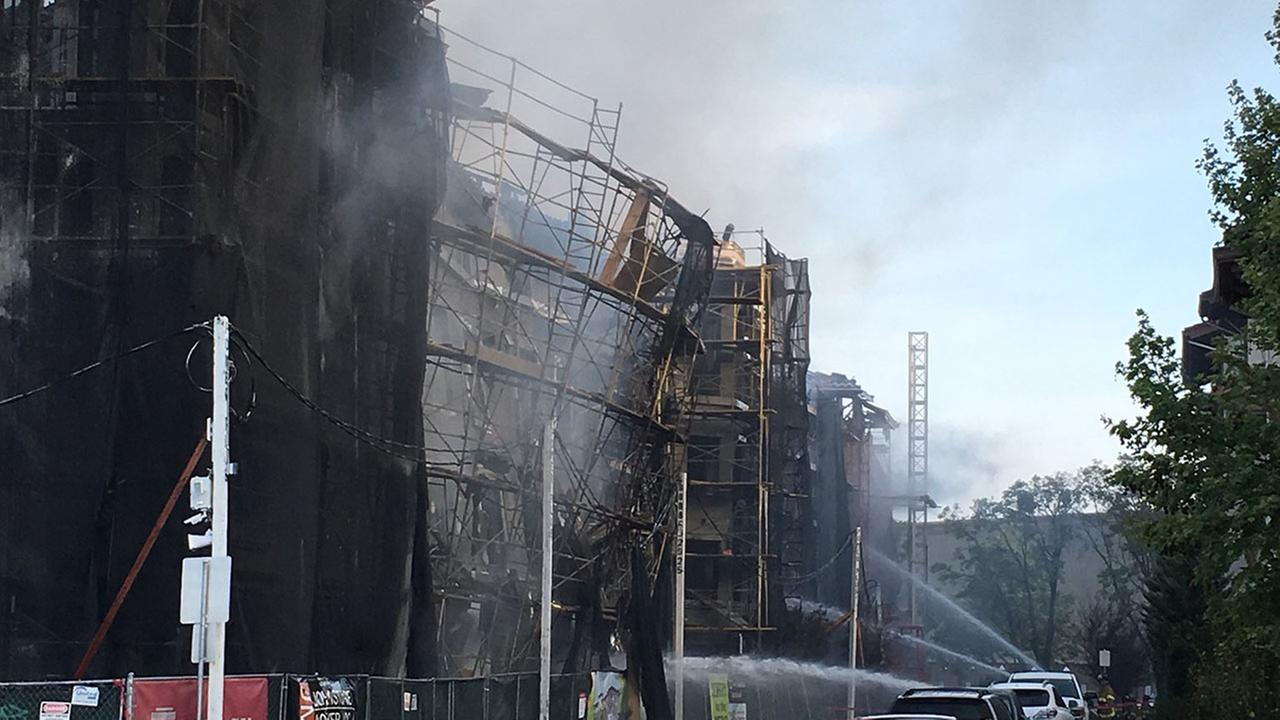 Sebuah kebakaran gedung apartemen besar pada Selasa pagi menghancurkan dua blok dekat Todos Santos Plaza di Concord dan ATF sedang bergabung dengan penyelidikan apakah pembakaran dengan sengaja telah dilakukan atau tidak.
Petugas operator dibanjiri dengan panggilan pada pukul 1 pagi, dengan satu orang yang menjelaskan ledakan diikuti oleh api besar yang meletus di sebuah area konstruksi dekat pusat kota Concord. Asisten Kepala Terrence Carey, komandan insiden, mengatakan bahwa petugas pemadam kebakaran tiba untuk menemukan api besar di sebuah kompleks apartemen berlantai lima yang sedang dibangun dengan rangka kayu yang dilalap api.
Setidaknya 70 petugas pemadam kebakaran berkumpul di Galindo dan Concord boulevard untuk melawan api, sementara 250 penduduk kompleks apartemen di seberang jalan diberitahu untuk mengungsi. "Aku melihat ke luar jendela dan yang bisa kulihat hanyalah dinding api dan api. Sayangnya, aku tidak bisa mendapatkan kucing dan apartemen mulai berbau seperti asap dan kami harus keluar. Anjing itu ada di sampingku dan saya meraihnya, "kata Emily Scheffler.
Tiga orang dibawa ke rumah sakit karena menghirup asap, tetapi tidak ada cedera lain yang dilaporkan.

Peneliti ATF bergabung dengan petugas pemadam kebakaran setempat untuk menentukan penyebabnya seperti yang mereka lakukan di tiga kebakaran lokasi konstruksi lainnya di East Bay selama dua tahun terakhir. Dua kebakaran di lokasi konstruksi Emeryville dan lainnya di Valdez st di Oakland musim panas lalu dianggap mencurigakan. "Ini terlalu dini untuk mengetahui apakah ini kebetulan atau disengaja. Juga, terlalu dini untuk mengetahui apakah ini terhubung dengan kebakaran lain di Bay Area," kata Jill Snyder dengan ATF.
Kebakaran pagi yang ganas menyerang sebuah kompleks apartemen Oakland yang sedang dibangun dan memaksa ratusan orang untuk mengungsi sementara kru berjuang melawan api.
Abu dan puing menghujani jalan-jalan di dekatnya ketika departemen kesehatan mengeluarkan peringatan. "Warga harus menghindari mencuci atau menyapu abu dan puing-puing ke saluran badai karena ini dapat berkontribusi pada pencemaran yang terkumpul di anak sungai terdekat," menurut Maria Duazo dengan Contra Costa Health Services.
Warga yang dievakuasi hanya mempunyai waktu 10 menit untuk mengambil obat, pakaian dan hewan peliharaan dari apartemen mereka Selasa sore. Seorang pria berkata, "Aku hidup, semua orang hidup, setidaknya kita berhasil keluar."
Bagaimana cara mencegah pembakaran dengan sengaja di area konstruksi?

Jangan biarkan orang masuk ke area secara tidak sah dan

mencegah masuk tanpa izin ke gedung

Kurangi peluang bagi pelaku untuk memulai kebakaran

Kurangi ruang lingkup potensi kerusakan akibat kebakaran

Kurangi kerugian dan gangguan lanjutan yang mungkin terjadi diakibatkan oleh kebakaran

Penilaian risiko kebakaran pada titik-titik penting area konstruksi
Diterjemahkan bebas dan ditulis oleh Ir. Russel Effandy AAAI-K. IPGDI. DIPL.CII. – http://www.cii.co.uk/membership/local-and-global/goodwill-ambassadors/russel-effandy-biography/
Contact Us:
(Untuk info lebih detail & konsultasi gratis tentang Risk Engineering)
+628129992037 (Russel Effandy)
+6281293617419 (Cepa Jasa Indonesia Center – CJIC)