Unauthorised drainage works caused flooding at Pasir Ris-Tampines junction, PUB to take action against company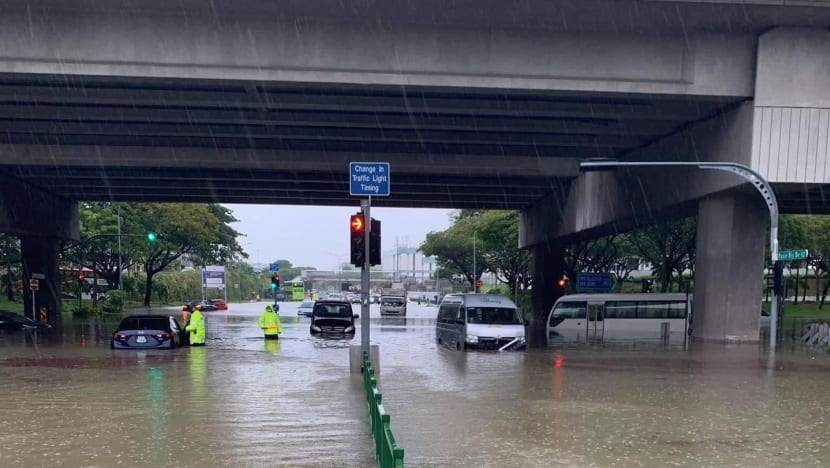 SINGAPORE: Unauthorized drainage works by construction company Samwoh Corporation caused severe flooding at the junction of Tampines Avenue 10 and Pasir Ris Drive on Aug 20, said national water agency PUB, adding that it will be taking enforcement action against the firm.
In a press release on Saturday (Sep 11), PUB said that it conducted a "thorough investigation" to determine the cause of flooding, which lasted nearly two hours and affected a 200m section of the traffic junction.
PUB's findings showed that Samwoh, which is carrying out road widening works along Tampines Ave 10, had blocked off the existing roadside drain and diverted the storm-water flow to a new drain section that was still under construction.
The new drain section was not properly connected back to the existing drain and was partially obstructed by scaffoldings.
Samwoh had also failed to seek PUB's approval to proceed with the proposed drainage diversion works, said the agency.
"Samwoh's unauthorized drainage works significantly impeded the discharge of storm-water into the downstream Sungei Api Api, resulting in floodwater accumulating at the traffic junction as it is the lowest point in the vicinity," it added.
After the flood, PUB conducted site investigations on the same day and found unauthorized alternations to the existing roadside drain within Samwoh's worksite, noted Mr Lee Cai Jie, who is chief engineer for drainage operations at PUB's catchment and waterways department.
"PUB then instructed Samwoh to stop work and direct all their resources to carry out urgent work to remove the obstruction in the new drain and improve the uncompleted drain section. Samwoh completed the rectification work by midnight on 20 Aug," he added.
PUB's water level sensors showed that Sungei Api Api, which discharges to the sea, was about half full at the time of the flooding incident.
During the flood, 13 vehicles were found partially submerged in water and several motorists required help to evacuate their vehicles, said PUB.
PUB's quick response team officers, together with officers from the Land Transport Authority, Singapore Police Force and Singapore Civil Defense Force, diverted traffic and assisted stranded motorists and pedestrians.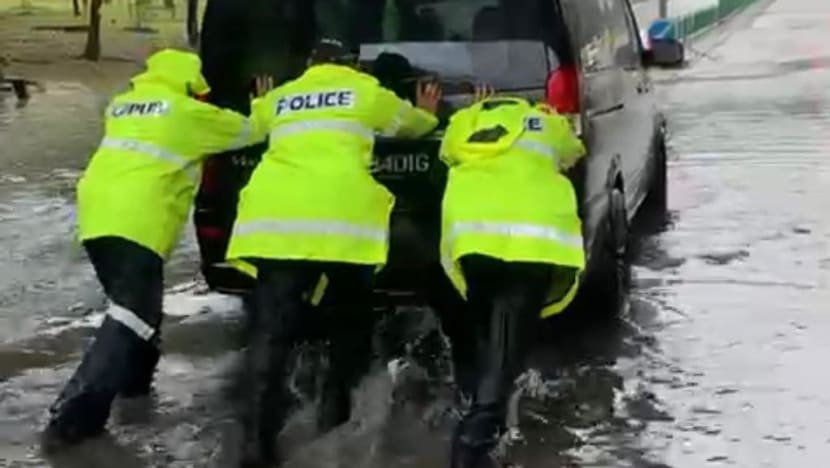 "This location is not a flood-prone area nor a flood hotspot – the storm-water drainage system is more than adequate to cope with the rainfall intensity experienced on Aug 20," said PUB.
"The amount of rainfall observed at this location was also comparable to recent rain events that occurred on Apr 5, 2021, and Nov 22, 2020, when no flooding was observed."
Mr Yeo Keng Soon, director of PUB's catchment and waterways department, said that this incident should serve as a "stark warning" to all contractors that any construction works carried out must not adversely affect the storm water drainage system.
"This prolonged flooding incident was entirely man-made. It would not have happened if the contractor had complied with PUB's regulations for drainage work," added Mr Yeo.
"PUB maintains a comprehensive network of roadside drains, canals and rivers that convey storm-water into reservoirs or out to sea – it is imperative that our drains are kept free flowing, especially as we experience more frequent and intense rainfall due to climate change."
Under the Sewerage and Drainage Act, offenders could be fined up to S$50,000 for works affecting the storm-water drainage system, and up to S$20,000 for unauthorized alteration of the storm-water drainage system.
"Contractors are required to notify PUB for inspections prior to any commencement of drain diversion or connection work, which Samwoh did not adhere to. In addition to inspections for drain diversion works, PUB also conducts regular inspections of construction sites located close to major canals throughout the year to check that the canals are free flowing and functioning smoothly to convey storm-water," said Mr Lee.
"We also carry out annual checks at about 100 major construction worksites around the island to ensure that the public drains around the construction sites are free from obstruction."
In 2017, contractor Sato Kogyo was fined S$14,000 for unauthorized drainage alteration works after a flood incident at Upper Thomson Road in Dec 2016.
"PUB takes a serious view of contractors carrying out unauthorized works that will interfere with the storm-water drainage system. Unauthorized alterations may affect the functioning of the system, as the drains, canals and rivers are interconnected," it said.
Terjemahan bebas:
SINGAPURA: Pekerjaan drainase yang tidak sah oleh perusahaan konstruksi Samwoh Corporation menyebabkan banjir parah di persimpangan Tampines Avenue 10 dan Pasir Ris Drive pada 20 Agustus, kata badan air nasional PUB, menambahkan bahwa mereka akan mengambil tindakan penegakan hukum terhadap perusahaan tersebut.
Dalam siaran persnya, Sabtu (11/9), PUB mengatakan bahwa pihaknya telah melakukan "penyelidikan menyeluruh" untuk mengetahui penyebab banjir yang berlangsung hampir dua jam dan mempengaruhi persimpangan lalu lintas sepanjang 200m.
*PUB: Public Utilities Board