Risk Engineer versus Project Engineer in Infrastructure Projects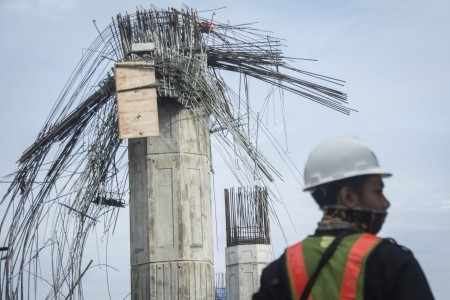 Background
Indonesia suspends infrastructure projects after string of accidents – Indonesia suspended on Tuesday the construction of elevated infrastructure projects, including rail and roads, after a series of accidents raised questions about the safety of a government drive to upgrade transport networks. One of this is a girder pole that was collapsed on the construction site of the Bekasi-Cawang toll overpass in Jakarta, Indonesia February 20, 2018.
Minister of Public Works and Housing Basuki Hadimuljono, who is in charge of infrastructure construction, said the government would suspend all construction of elevated infrastructure.
"Design, equipment and standard operating procedures will be evaluated. Everything will be evaluated," he said, adding that President Joko Widodo had requested the action.
When Widodo came to power in 2014 he outlined a need for $450 billion investment in infrastructure by 2019 to help cut high logistics costs holding back Southeast Asia's biggest economy. Under the drive, a series of projects ranging from a subway in traffic-clogged Jakarta to seven new airports and thousands of kilometers of roads are being built, often by state-owned enterprises.
"We hope with such supervision, any negligence, errors in erecting such components that support the constructions are fully supervised one by one," Widodo said on Tuesday.
But there have been 14 accidents in the past six months, according to Hadimuljono.
In the latest, a girder collapsed at a toll-road construction site in Jakarta on Tuesday injuring seven workers, media reported. This month, a crane collapsed at an elevated railway project in another part of Jakarta, killing four people and injuring five. Arie Setiadi Moerwanto, a director general at the ministry, said "a lot" of infrastructure would be suspended although he said it should not disrupt government infrastructure development targets.
Moerwanto said the length of suspensions would depend on the result of evaluations, but it could range up to a month. (taken from REUTERS – 2018)
Risk Engineer in the insurance industry
Many large insurance and reinsurance companies cover risks for corporate clients with dangerous industrial and constructional operations (insuring aspects such as failed structure, lost production, equipment damage, business continuity and liability). These companies require experts who are able to analyze and evaluate risk properly by assessing the client's operational risk management and by analyzing historical data. Risk engineers also help industrial companies to improve technology risk management and prevent huge losses. They may be asked to investigate major failures to determine the degree of responsibility of the various parties. Common job titles include risk engineers, price analysts, data analysts, and actuarial analysts. Large insurance and reinsurance companies with activities in industrial risk cover include Zurich Insurance Group, Swiss Re, FM Global, Liberty Mutual, AIG, Lloyds, Allianz and Marsh.
Project Engineers in Infrastructure Projects
The role of a project engineers can often be defined as a liaison between project managers and the technical disciplines involved in the project. Project engineers are also often a major technical contact point for consumers.
The responsibilities of a project engineer include preparation of time schedules, pre-planning and forecasting of resources for engineering and other project-related technical activities. They may also be responsible for vendor/sub contractor's performance management. They ensure the accuracy of financial forecasts, which tie into project schedules. They make sure the projects are completed according to the project plan. The project engineer manages the resources and training of the project team and develops extensive project management experience and expertise.
When the project team is structured so that several specialized disciplines report to the project engineer, the two important responsibilities of the project engineer are interdisciplinary coordination and overall job quality control. (taken from: "Project Engineering: Interdisciplinary Coordination and Overall Engineering Quality Control". Proc. of the Annual IAC conference of the American Society for Engineering Management).
In infrastructure project, just like other engineering projects but a lot more complex, project engineer has a very important role to maximize all resources to complete the project properly and on time. Nevertheless, loss do occurs.
What Risk Engineers Can Contribute?
Risk engineers are able to carefully analyze the project phases and activities such as planning and construction which is evaluated by civil engineers, and testing, commissioning and start-up are appraised by engineers with sector-specific operational experience like experts in Oil & Petrochemical, Power Generation & Utilities, Mining, Road and Bridge etc. Risk engineers also develop a customized program designed to identify, mitigate and minimize or eliminate loss exposures. Risk engineers should adopt a flexible approach aimed at finding cost effective solutions that will result in real loss reduction. Their mission is to make a difference that directly contributes to completion of an infrastructure projects.
Risk engineers should also have the ability as fire protection experts to undertake plan reviews to ensure that all fire fighting team and brigade are available in accordance with international or local standards. Risk engineers must assist the contractors i.e. Project Engineers in the design and management of their construction projects to ensure that infrastructure designs not only meet relevant construction regulations but also use materials that are generally accepted by the insurance market. Risk engineers also help to make sure that fire and security protection are appropriate to the risk. They have to do Plan Reviews that can detect and identify design deficiencies in proposed new construction or refit contracts, thereby avoiding costly design errors.
In the case of elevated road construction projects, all of these role of Risk Engineer can be implemented to make sure that the project is executed properly from the phase of pre-design, land preparation, main construction, testing and commissioning until project hand over to the owner i.e. government.
Conclusion
In all infrastructure projects, Project engineers and Risk engineers must work hand in hand based on their specific expertise to make sure that the infrastructure projects can be completed properly and on time. Project engineers must provide all the document of infrastructure projects to be evaluated and analyzed by Risk engineers. Risk engineers must produce the loss mitigation and contingency plan subsequent to evaluating the complete project plan.
Ditulis oleh Ir. Russel Effandy AAAI-K. IPGDI. DIPL.CII. – http://www.cii.co.uk/membership/local-and-global/goodwill-ambassadors/russel-effandy-biography/
Contact Us:
(Untuk info lebih detail & konsultasi gratis tentang Risk Engineering)
+628129992037 (Russel Effandy)
+6281293617419 (Cepa Jasa Indonesia Center – CJIC)