Aviation reinsurance rates rise by up to 250% – report  | Tarif Reasuransi Aviasi/Penerbangan naik 250% | 2021
LONDON (Reuters) -Aviation reinsurance rates rose by up to 250% at the key Jan. 1 renewal date, broker Willis Re said in a report on Monday, with the market still reeling from the impact of Boeing 737 MAX crashes two years ago.
The 737 MAX resumed commercial flights in the United States last week, following a 20-month safety ban after two fatal crashes in five months killed 346 people.
Insurers and reinsurers face claims from the crashes relating to hull and product liability that could amount to more than $2 billion, a large sum in a relatively small insurance sector, Willis Re International chair James Vickers told Reuters.
Aviation underwriters are also suffering from lower premiums due to worldwide lockdowns and travel bans, as insurance contracts are often negotiated based on the amount of time planes spend in the air.
Property and casualty reinsurance premiums are up by 25-30% for the riskiest areas of business, the report showed.
Analysts at Jefferies said the report showed a reinsurance hard market – in which premium rates are rising – was "underway", highlighting gains in U.S. property, global casualty and specialty lines such as trade credit and political risk, as well as aviation.
Insurers have themselves benefited from higher rates this year as well as lower claims in areas such as motor, giving them a strong hand in contract negotiations, Vickers said.
"Reinsurers were feeling quite bullish and feeling, 'this is our moment'," Vickers said, adding that they had nevertheless "achieved at least rate stability and some rate increases".
Vickers said the biggest disagreements between insurers and reinsurers had been about cover for cyber attacks and communicable diseases such as COVID-19. Reinsurers are largely excluding these risks from policy wordings, he said.
Reporting by Carolyn Cohn; Editing by Jan Harvey
Terjemahan Bebas:
Tarif reasuransi penerbangan naik hingga 250% – | 2021
Oleh Carolyn Cohn
3 MENIT BACA
FOTO FILE: Sebuah pesawat terbang di atas Bandara Internasional Hartsfield – Jackson Atlanta di Atlanta, Georgia, AS 23 November 2020. REUTERS / Chris Aluka Berry
LONDON (Reuters) – Tarif reasuransi naik hingga 250% pada tanggal 1 Januari, kata broker Willis Re dalam sebuah laporan pada hari Senin, akibat pasar masih belum pulih dari dampak jatuhnya Boeing 737 MAX dua tahun lalu.
737 MAX melanjutkan penerbangan komersial di Amerika Serikat minggu lalu, menyusul larangan keamanan 20 bulan setelah dua kecelakaan fatal dalam lima bulan yang menewaskan 346 orang.
Penanggung dan reasuransi menghadapi klaim dari kecelakaan yang berkaitan dengan lambung dan kewajiban produk yang bisa berjumlah lebih dari $ 2 miliar, jumlah yang besar di sektor asuransi yang relatif kecil, kata Boss Willis Re International James Vickers kepada Reuters.
Underwriter penerbangan juga menderita jumalh premi yang lebih rendah karena lockdown dan larangan perjalanan di seluruh dunia, karena kontrak asuransi sering dinegosiasikan berdasarkan jumlah waktu yang dihabiskan pesawat di udara.
Perusahaan reasuransi, yang berbagi beban risiko besar dengan perusahaan asuransi sebagai imbalan sebagian dari premi, juga melihat kenaikan tarif di sektor lain setelah penurunan bertahun-tahun.
Premi reasuransi properti dan kecelakaan naik 25-30% untuk area bisnis yang paling berisiko, menurut laporan tersebut.
Analis di Jefferies mengatakan laporan itu menunjukkan pasar keras reasuransi – di mana tarif premi naik – sedang "berlangsung", menyoroti keuntungan di properti AS, korban global dan jalur khusus seperti kredit perdagangan dan risiko politik, serta penerbangan.
Tetapi tarif tidak naik sebanyak yang diharapkan perusahaan reasuransi, meskipun ada pandemi virus korona.
Perusahaan asuransi mendapat keuntungan dari tarif yang lebih tinggi tahun ini serta klaim yang lebih rendah di berbagai bidang seperti motor, memberi mereka andil yang kuat dalam negosiasi kontrak, kata Vickers.
"Perusahaan reasuransi merasa cukup bullish dan merasa, 'ini adalah momen kami'," kata Vickers, menambahkan bahwa mereka tetap "mencapai setidaknya stabilitas suku bunga dan beberapa kenaikan suku bunga".
Vickers mengatakan ketidaksepakatan terbesar antara perusahaan asuransi dan reasuransi adalah tentang perlindungan terhadap serangan dunia maya dan penyakit menular seperti COVID-19. Perusahaan reasuransi sebagian besar tidak menutup risiko ini dari wording polisnya, katanya.
Laporan dari Carolyn Cohn; Diedit oleh Jan Harvey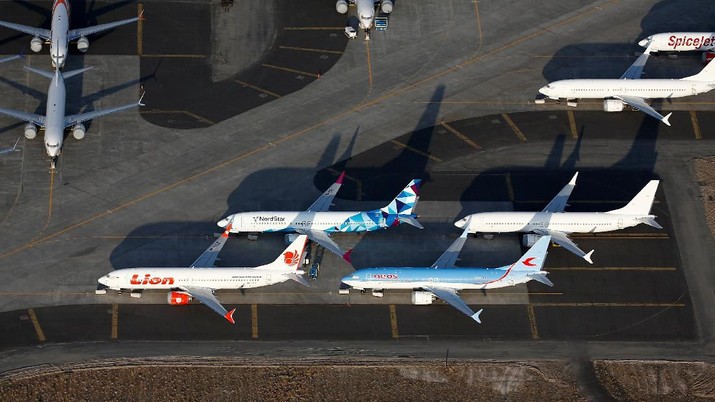 Tulisan terkait:
https://www.cnbcindonesia.com/news/20191217154848-4-123796/dua-kecelakaan-yang-membuat-boeing-737-max-stop-produksi
Profil penterjemah:
https://www.ciigroup.org/en/membership/international/goodwill-ambassadors/russel-effandy-biography/