Disaster Risk Financing(DRF) – Pembiayaan Risiko Bencana
The financial losses caused by natural disasters continue to rise, and developing countries experience the greatest impacts. Natural disasters generate significant fiscal risk and create major budget volatility. Even countries with robust disaster risk management programs can still be highly exposed to the economic and fiscal shocks caused by major disasters.
Disaster Risk Finance (DRF) is a growing discipline that addresses the fiscal impacts and economic losses caused by natural hazards (e.g. cyclones, droughts, earthquakes, floods) and supports countries to increase their financial resilience to natural disasters.
The Disaster Risk Financing and Insurance Program (DRFIP) helps countries ensure that their populations are financially protected in the event of a disaster. Through funding and expertise, DRFI supports countries to develop and implement tailored financial protection strategies that increase the ability of national and local governments, homeowners, businesses, agricultural producers, and low income populations to respond more quickly and resiliently to disasters.  DRFIP has helped governments, businesses and households bring together financial, analytical, advisory and convening services of the World Bank group in more than 60 countries.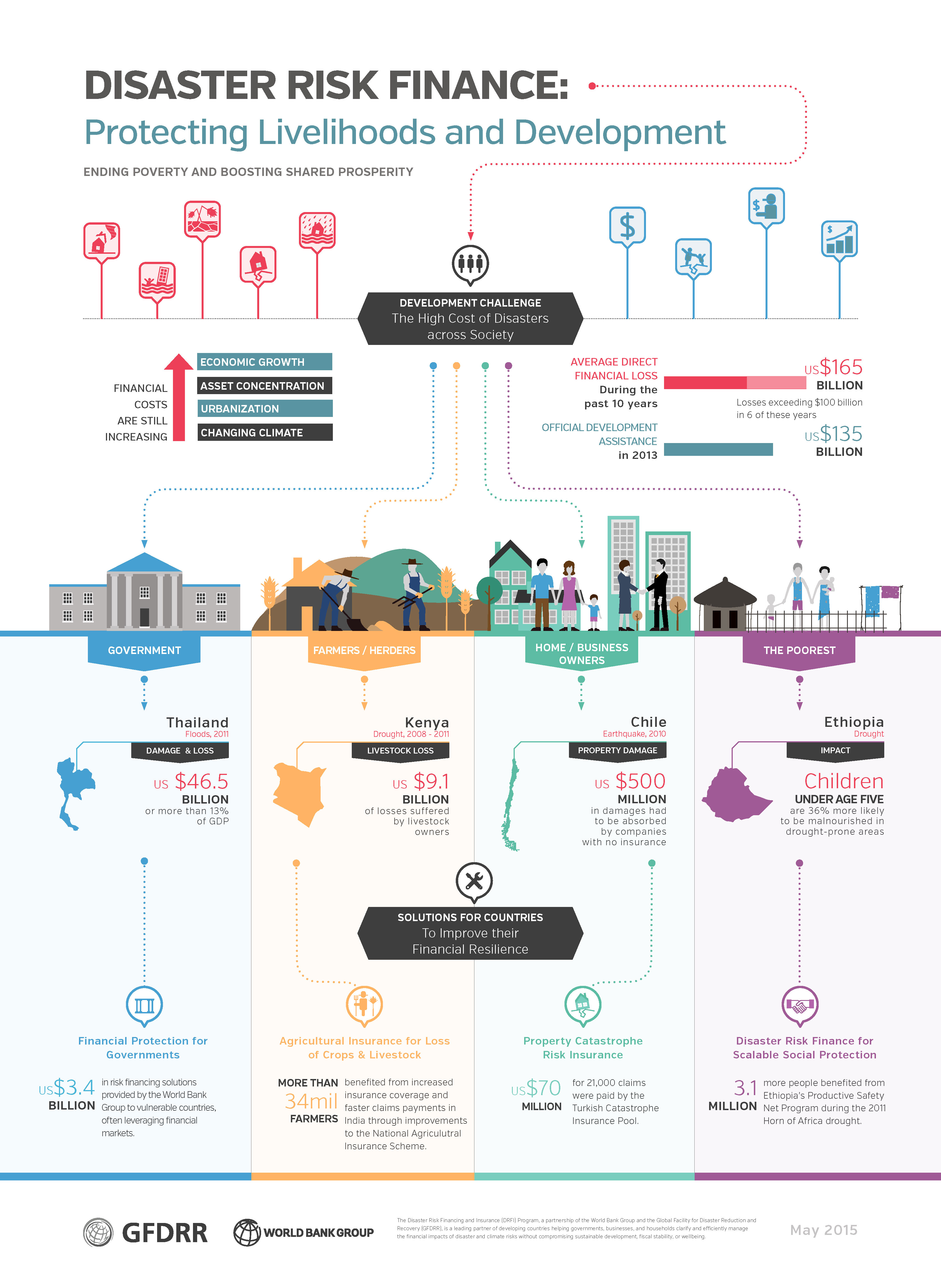 Terjemahan bebas:
Kerugian finansial akibat bencana alam terus meningkat, dan negara-negara berkembang mengalami dampak terbesar. Bencana alam menghasilkan risiko fiskal yang signifikan dan menciptakan volatilitas anggaran yang besar. Bahkan negara-negara dengan program manajemen risiko bencana yang kuat masih dapat sangat rentan terhadap guncangan ekonomi dan fiskal yang disebabkan oleh bencana besar.
Disaster Risk Finance (DRF) adalah disiplin yang berkembang yang menangani dampak fiskal dan kerugian ekonomi yang disebabkan oleh bencana alam (misalnya angin topan, kekeringan, gempa bumi, banjir) dan mendukung negara-negara untuk meningkatkan ketahanan finansial mereka terhadap bencana alam.
Program Pendanaan dan Asuransi Risiko Bencana (DRFIP) membantu negara-negara memastikan bahwa populasi mereka dilindungi secara finansial jika terjadi bencana. Melalui pendanaan dan keahlian, DRFI mendukung negara-negara untuk mengembangkan dan menerapkan strategi perlindungan keuangan yang disesuaikan yang meningkatkan kemampuan pemerintah nasional dan lokal, pemilik rumah, bisnis, produsen pertanian, dan populasi berpenghasilan rendah untuk merespons bencana dengan lebih cepat dan tangguh. DRFIP telah membantu pemerintah, bisnis, dan rumah tangga menyatukan layanan keuangan, analitis, konsultasi, dan pertemuan kelompok Bank Dunia di lebih dari 60 negara.