Meski Dibangun dengan Kuat, Gedung Bisa Runtuh, Apa Penyebab Gedung Ambruk?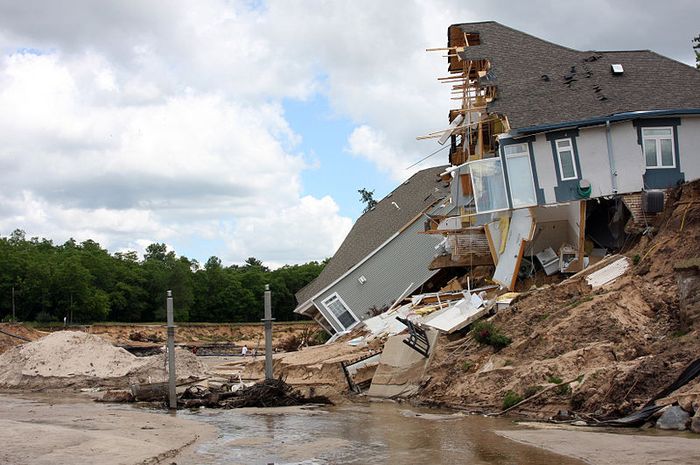 Ilustrasi gedung yang ambruk
Mungkin teman-teman pernah mendengar tentang gedung ambruk saat terjadi bencana gempa bumi.
Gedung-gedung yang tinggi pastinya sudah diperhitungkan agar kuat. Namun, beberapa hal bisa menyebabkan gedung ambruk meski tidak terjadi bencana alam.
Kita cari tahu peyebab gedung ambruk, yuk!
Bangunan Gedung yang Kuat
Gedung didesain untuk menahan beban tertentu, teman-teman.
Beban itu ada yang berasal dari berat manusia yang ada dalam gedung, barang-barang di dalamnya, berat air hujan, salju, sampai tekanan angin. Beban itu disebut live loads.
Sedangkan, ada juga beban dead load yang asalnya dari bangunan itu sendiri.
Lalu, apa saja hal yang bisa menyebabkan gedung runtuh dan apa yang harus dilakukan untuk menyelamatkan diri dari gedung yang akan runtuh?
Penyebab Gedung Runtuh
Ada beberapa penyebab gedung bisa runtuh, mulai dari desain gedung hingga kelebihan beban.
Desain Gedung
Desain gedung bisa menjadi penyebab gedung runtuh. Selain karena kekeliruan perhitungan, desain yang keliru juga disebabkan oleh kesalahan perhitungan beban yang akan ditahan gedung.
Konstruksi Gedung
Konstruksi atau pembangunan gedung juga bisa mengalami kekeliruan, teman-teman. Misalnya penggunaan material atau pemasangan yang kurang tepat.
Fondasi
Bangunan rubuh juga bisa disebabkan oleh kondisi fondasi atau tempat bangunan didirikan. Menara Pisa misalnya, miring karena ada bagian tanah yang lunak dan menenggelamkan sebagian sisi menara.
Kelebihan Beban
Meski kuat dan dibangun dengan benar, ada juga bangunan yang rubuh karena berkali-kali menahan beban yang berlebihan, seperti hujan salju lebat, gempa bumi, angin topan.
Beberapa hal di atas juga bisa bersama-sama menjadi penyebab sebuah bangunan runtuh.
Sebuah gedung yang sudah tua juga bisa rubuh bila terkena dampak bencana alam atau karena tidak pernah diperbaiki.
Nah, apapun penyebabnya, bangunan runtuh bisa berbahaya bagi orang yang ada di dalam maupun di luar gedung.
Jika berada di bangunan yang akan runtuh, apa yang harus dilakukan, Bo?
Yang Harus Dilakukan untuk Menyelamatkan Diri dari Gedung yang Akan Runtuh
Pertama-tama, kita harus tahu jalan keluar darurat di gedung yang teman-teman masuki.
Kemudian, usahakan berada di lantai dan bersembunyi di dekat atau di bawah meja yang berat, duduk dan lindungi bagian kepala serta leher dengan tanganmu.
Jauhi benda seperti cermin, pintu kaca, atau benda berat di atas lemari besi yang bisa membahayakan kita.
Saat keluar, gunakan tangga darurat yang lebih aman dari lift.
Generally, Building collapsed due to following reasons:
Artificial reasons:
Soil with less bearing capacity.
Proper Foundation not provided.
Reinforcement corroded.
Errors in structural design.
Inferior quality of cement and integrants is used.
Less amount of reinforcement provided.
Use after the expiry of life of buildings.
Maintenance not done properly.
Natural reasons:
Earthquake
Landslides or settlement of Sub-base soil due to over drainage.
Tsunami
Typhoon and winds with high speed.
Terjemahan:
Umumnya bangunan runtuh karena sebab-sebab berikut:
Alasan buatan:
Tanah yang daya dukungnya lebih kecil.
Landasan yang tepat tidak disediakan.
Tulangan terkorosi.
Kesalahan dalam desain struktur.
Kualitas semen dan integran yang digunakan lebih rendah.
Jumlah penguatan yang diberikan lebih sedikit.
Gunakan setelah habis masa pakai bangunan.
Pemeliharaan tidak dilakukan dengan benar.
Alasan alami:
Gempa bumi
Longsor atau penurunan tanah subbase akibat drainase yang berlebihan.
Tsunami
Topan dan angin dengan kecepatan tinggi.